Native Sun Home Accents manufactures decorative security screen doors designed to last a lifetime for the Phoenix Metro area and the state of Arizona. Available in over seventy beautiful models. We can accommodate any door opening from the common single standard height, standard width door openings (36″x80″) to double French and double Arcadia (sliding glass doors). Over-height and over-width doors are no problem at Native Sun.
All of our Slim-line and DLB series doors are manufactured at our facility in Surprise Arizona with 16GA tubular steel. Unlike most other companies, Native Sun incorporates a Class A unitized construction method in the manufacturing of our security screen doors. What does this means to you? It means that when your screen door arrives at your home it arrives in one piece. The main security screen door frame is welded to its own sub frame via three (3) tamper proof hinges. The security screen door is then fastened securely to the house with tamper proof one-way security screws. You simply cannot get a more secure application. Most other companies show up with your screen door in pieces and assemble the main door frame to an aluminum sub frame through a series of screwed on hinges (usually two) on site. The problem with this type of installation is that if it was assembled on site, it can be disassembled on site.
Lifetime structural and installation guarantee.
Standard features:                                                                                                                                                                                                                     Optional features:
Tamper Proof lockset. Available in five finishes. (Satin Nickel, Oil Rubbed Bronze, Antique, Polished Brass, or Dark Nickel.)                   • Pet grill
Super screen                                                                                                                                                                                                                             • Sun Screen.  (Five colors.)
Pneumatic door closer                                                                                                                                                                                                            • Pet Screen
Felt weather striping.                                                                                                                                                                                                             • Tempered Glass
Adjustable Bug Sweep                                                                                                                                                                                                            • Pet Door
Custom Color                                                                                                                                                                                                                           • Perforated Steel
Threshold Extension                                                                                                                                                                                                              • 1/8″ Expanded steel
Installation                                                                                                                                                                                                                               • Flush Grind pickets. (Standard on Slim Line Series.)
Rekey service
Security Screen Door Selections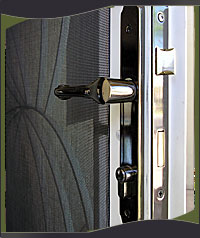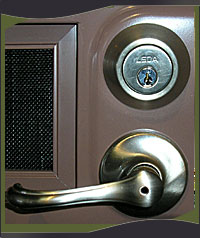 Native Sun decorative security screen doors are available in two different lock configurations. These are the Slim-line series and double lock box or DLB series.
Slim-line locks are a unitized dual action lock; meaning the deadbolt and lever are incorporated into one piece. Slime-line locks are incorporated into the style of the screen door and can be configured for right or left hand swing.
DLB series doors have a lock box that will accommodate a separate deadbolt and lever. The lock box on the DLB series projects into the field of the screen door creating a need for a middle frieze and can be configured for right or left hand swing as well. Although the DLB series is considered a more user-friendly lock system, the slim-line lock is considered to have a more elegant aesthetic.
All of our Slim-line and DLB series doors are "bug tight™" applications. This means upon installation the security screen door is caulked to the house and weather-stripped. A threshold extension as well as a double rubber bladed adjustable bug sweep at the bottom of our doors insures no insect incursion into your home. Slim-line and DLB series doors are complete door packages. Standard features include locksets, consisting of a double cylinder deadbolt and lever (available in five different finishes), super screen, pneumatic door closer or wind chain, wreath peg (upon request) and choice of color. At Native Sun, you have access to the widest color palette in the industry so finding a color to comply with your personal vision as well as any HOA requirements is a snap.
We proudly serve the Phoenix Metro Area and all of Arizona