At Native Sun Home Accents facility located in Surprise Arizona, we manufacture ornamental steel and iron security gates and entries to any size and specifications. Some general rules regarding steel security gates are as follows:
Security gates should be manufactured with the same gauge steel (16 GA or .060) as security doors. However a lighter gauge (18 GA or 20GA) should be used when a wide spance or heavy ornamentation adds excessive weight to the gate.
Adjustable hinges are very important when it comes to iron and steel security gates. Over time block walls, buildings and posts will shift do to weather, time, humidity and other factors. In order to maintain a smooth open and close operation and an overall pleasing appearance to your security gate you must have the ability to adjust the gate as needed.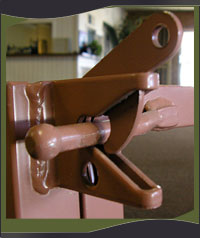 There are many types of latches available. Pool gates for example require not only a return spring, but must be self latching and the latch must be installed at least 54″ above ground. The most economical security gate latch is the "gravity latch"; this type of latch is reliable, self latching and is by far the most common gate latch you will see. Lock boxes to accommodate levers and or deadbolts are a popular feature as well as hand forged latch systems to give a rustic look or to conform with the overall design of the security gate.
Coatings rules and requirements are the same for any exposed steel or iron products. At Native Sun we have two coating systems in our production department; Powder coating and sprayed on rust inhibitive enamel. Rust inhibitive enamels with a primer base coat are our recommendation. Do not use Powder coat or any other similar type finishes that do not allow you to readily maintain exterior steel or iron products. These finishes offer durability as well as hard characteristics, however, much like your home, through high usage and time you will at some point need to maintain your gates, security doors, fencing and any other exterior steel and or iron through repainting, touching up or color change. Powder coats and similar type finishes do not provide this long term versatility and must be sand blasted down to original surface in order to repaint, touch up or change color. Sandblasting powder coat finishes and similar type finishes is quite costly sometimes equaling or surpassing the original cost of the item in question.
Some other options to consider when purchasing a ornamental security gate are screen products, such as Sunscreen or Poly screen to achieve privacy or to inhibit leaves and other debris from migrating through the gate. Screen products and rigid types of materials such as expanded or perforated steel and hinge straps are also excellent for keeping pets in as well as keeping other critters out.